Natives of Kolkata raise eyebrows and exclaim loudly when I tell them that I commute to Barasat and Bangaon on the Bangaon Local from Sealdah station. I discovered that this is because the route is renowned for being really crowded with villagers who come into Kolkata bringing their produce to market. Indian Railways is a state owned and operated organization. It is the third largest network in the world and carries 22 million passengers a day and I feel as if I have been up close and personal with many of them! The Sealdah – Bangaon journey is only 76 km but takes at least two and a half hours although the schedule suggests a shorter journey time but it is cheap costing 20 INR (about 25 pence).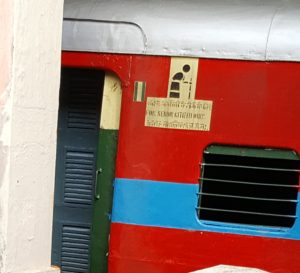 There are designated carriages for senior citizens but I usually select to travel in the "ladies compartment".  However, you can forget the word "ladies" when it comes to getting on or off a train. I had no idea that Indian women could play rugby but most of them would make excellent scrum halves. There is none of the polite "allow the train to stop and the passengers to alight" oh no, it is heads down and fight through the throng to get a seat, preferably screaming very loudly while doing so. The men are even crazier – they don't wait for the incoming train to stop but run alongside the carriage and squeeze on before anyone has a chance to get off!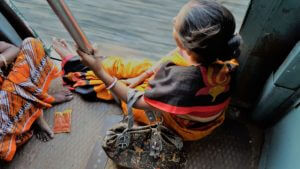 Favourite position is squatting or sitting by the doorway (no doors on these local trains) to get the breeze.
The train journey offers more than just the ride – not only do you get to see the countryside and admire the Indian women in their colourful saris and kurtis but it is a retail opportunity. I knew about the tea and snack sellers but I now realise that you can buy far more on a train than I imagined.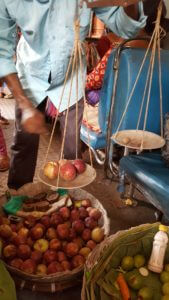 Apples, lemons and guavas are weighed and bagged, earrings and bangles tried and chosen, a handbag selected and it seems that asking your neighbours for their opinion on your purchase is all part of the fun. I certainly gave eleven out of ten to the man who got into a jam-packed carriage on a Saturday night and proceeded to demonstrate sari fabrics – a sari is between 5 to 8 metres long. It was amazing to see the length of fabric being passed around the carriage but sadly I was so sandwiched between ladies that taking a photo was out of the question!
I am thinking of introducing this retail opportunity to Southern Railway's Uckfield to London Bridge services on my return.
©Copyright overthehils.com 2017