Horizons and values have to change when you move into a completely different environment. Survival in these situations is your ability to adapt and it confirms Darwin's hypothesis very aptly. You cannot think of making comparisons with a previous life – you simply have to go with what you have and watch what the locals do.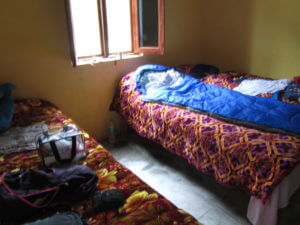 My accommodation is a room overlooking the river at the back of a cafe. I have the choice of one bed with a more comfortable mattress but this has death watch beetle in the wooden frame, so in the middle of the night you wake to hear the beetle gnawing away – it reverberates through the entire bed frame and makes sleep impossible. The alternative is a bed without the beetle but which has a mattress as hard as a board. I have opted for the latter and my sore hip bones are a testament to that.
The room has a fan so that on hot nights you can have cooling and the windows do have fly screens. Mosquitoes are present but not in high numbers in the village and malaria is not a risk in this area. The temperature during the monsoon season varies enormously so on a sunny day like today you have to take full advantage of it and do the washing, air the sleeping bag and heat water for a hot shower. I have a fantastic Itian 5-gallon solar heated camp shower bag which you fill and leave in the sun to heat up. It has caused much curiosity among the locals but it is a luxury to have hot water for a shower.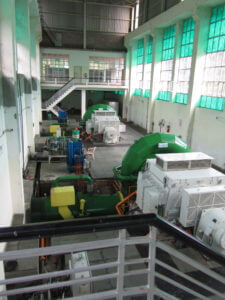 Electricity is sporadic – there is a red light on the bank of power switches in the room which tells you when the power is on, so the minute it lights up you plug in all the re-chargeable items like phone, kindle, camera battery and laptop. It becomes quite a challenge to maintain power in all your equipment. This is all slightly ironic as a few hundred metres from Kharadi village is a hydroelectric power plant which generates 8 megawatts into the state grid daily. I have to say that I brought a power bank (Poweradd Pilot) with me and it has proved to be one of the most useful items I brought – not just for me but all the teachers use it!
The biggest challenge of all is connectivity to the internet. There is 3G in this area and plans to bring 4G to all the rural areas are going ahead; the cable is being laid along the road into the village – locals are all for it and say that it will bring improvement through education. . Part of me questions the appropriateness of this scheme when there is still no rubbish collection or re-cycling available anywhere. Some people have smart phones and can access the internet on their laptops using a mobile hotspot but connectivity can be patchy. In the nearest town, Barkot, there is a computer centre with WiFi but even when the line is working the connectivity is poor and most of the time the speed is so low that it is unusable.
I made one mistake which travellers need to be aware of – I did not get my phone unlocked before leaving the UK. If you are on a contract and pay by DD then after 6 months you can apply to have your phone unlocked and I have done this and got the required codes. This means that I can use an Indian SIM card and hopefully access the web which should ease communications.
Everyone teased me before leaving the UK that I would get sick of lentils and rice. I had a friend whose signature dish was dahl and I always used to laugh about it – now I feel it was some sort of a warning! The meals here are as follows – parantha for breakfast, rice and dahl for lunch, chapattis, vegetables and dahl for supper. Parantha is chapatti dough with potato mixed in and a very solid start to the day – I have opted for fruit and go to the market to buy papaya, bananas and apples.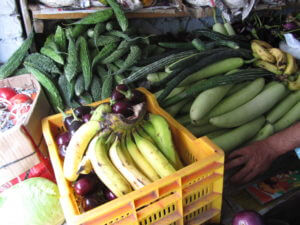 There is an amazing assortment of vegetables available, aubergines, various squashes, tomatoes, potatoes, cauliflowers but they are all cooked to death in a curry sauce and served in rather small portions. I would far rather eat more vegetables and less of the carbs! The little cafe where I have my room is a real life-saver as the cook makes a mean vegetable chow mein and delicious samosas,
Tea has close associations with India and everyone will ask you to take tea with them – it is a sign of hospitality. The tea is boiled with water and milk and copious amounts of sugar added so that the resulting brew is just undrinkable. I have had to force down so many cups of this sweet concoction being a visitor and guest. Now my little cafe makes me kali chai (black tea) which is just perfect!
©Copyright overthehils.com 2017