While in Calcutta I have tried to learn a little of the history and have enjoyed several strolls around the city with Heritage Walks Calcutta led by Dr Tathagata Neogi, the founder of this initiative.He's an archaeologist who studied for his PhD at Exeter University. Apart from the academic side of things, he is extremely passionate about Kolkata's history and rich cultural heritage. He has an ability to bring the old buildings of the town to life with fascinating stories. It makes me feel very frustrated that so little has been done to preserve the history of the old town and tourism as an industry is non-existent  – not even a tourist map is available.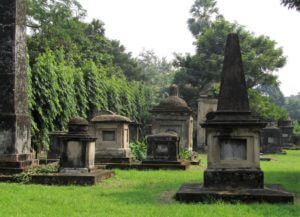 Our latest sortie was to South Park Street Cemetery which was opened in 1767 and closed in 1790, although the last burial was probably around 1830. Those who wished to be buried here paid 200 GBP for a plot which today is worth 32,200 GBP. Quite a price tag especially if you never got to be buried there. Frequently those who had purchased a plot died at sea, on the way to or from Calcutta, or back in England and many of the memorials were erected by their family and friends in Calcutta with only an effigy placed inside the grave. This must have caused considerable frustration to grave robbers who hoped to find buried treasure. Burials were usually held after dark by the light of lanterns and torches and one can only imagine the ghostly scene in what was a remote, marshy and forested area previously frequented by hunters for tiger and rhino.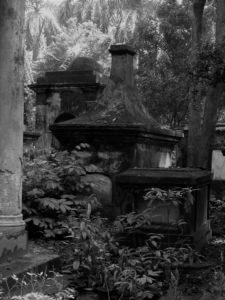 The cemetery holds one of the finest collections of neo-classical funerary sculpture outside Europe. Huge pyramids, pavilions and obelisks coated with green moss and lichen, nestling among palm and banyan trees creating a lost world scene, ideal for film sets about ghosts and vampires. Many of the  rich and famous have their graves here as well as the most beautiful girl in Calcutta, the first British Ambassador to Tibet, the founder of the Asiatic Society, and those that helped establish the British Empire in India, surveyors, philanthropists, teachers, translators and architects.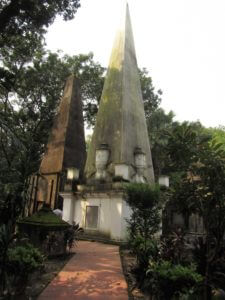 The tallest obelisk belongs to Sir William Jones, a judge, who arrived in Calcutta in 1783 to take up his post at the Supreme Court of Judicature at Fort William. He was a hyper-polyglot having fluency in 16 languages and competence in another 12. He founded the Asiatic society and was fascinated by Indian culture. Over his lifetime he produced a number of scholarly works which were responsible for initiating studies of Indian culture.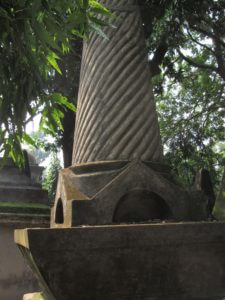 There was a dearth of marriageable women in Calcutta and young ladies used to come over from England in the hope of making a good match. Rose Aylmer had formed an attachment to a young poet, William Savage Landor; her mother, in a bid to separate the young lovers, sent Rose to join her aunt, Lady Russell in Calcutta. Sadly Rose died of cholera  in 1800 and the strange story circulated that she died from eating too many pineapples! At that time it was believed that fresh fruit such as pineapples and melons were responsible for the spread of cholera  Her obelisk is unusual as it is spiral in form to denote the fact that she was in fact a member of the Welsh Church!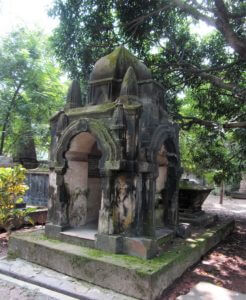 The strangest memorial must be that to "Hindoo Stuart". Charles Stuart was an officer in  the East India Company army. He embraced Hindu culture and bathed in the Hooghly every day and rather shockingly amassed a collection of Hindu deities which he took from Hindu shrines When he died in 1828 he wanted his memorial to resemble a Hindu temple and many pieces  from his collection were included in the construction. Ironically many of the artefacts were stolen from his grave!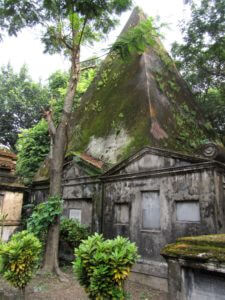 Miss Sanderson was reputed to be the most beautiful girl in Calcutta. Courted by many, she married Richard Barwell in 1776, a trader with the East India Company and  friend and supporter of Warren Hastings. Allegedly Barwell amassed the largest fortune ever brought back to England from India. Sadly his wife died after 2 years of marriage and her grave is marked with this huge pyramid.
For me one of the most interesting people buried here is  Lt Col Colin Mackenzie, Chief Surveyor of India. He was asked to survey Mysore and produced the first map for the East India Company. He was not only a surveyor but studied the people and  their religion through interpreters and wrote 21 volumes of diaries now in the British library.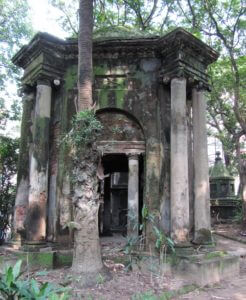 He was the first person to describe the Indian caste system and concluded that it was a dynamic system and differed from village to village, region to region. His work was abridged by a French priest, Abbe Dubois, who in direct conflict to Mackenzie's findings concluded that the Indian caste system was the same all over the country.  This work of Abbe Dubois has been used to this day and caused many of the problems associated with the caste system.
If you are in Calcutta and want to discover more about this fascinating place then do go on a walk with Dr Neogi. http://heritagewalkcalcutta.com/
Let us wish the souls and martyrs of old Calcutta eternal peace on this day – the eve of All Hallows.
©Copyright overthehils.com 2017