I have just completed a road trip from Sydney in New South Wales (NSW) to Adelaide in South Australia (SA) via Canberra in the Australian Capital Territory, Beechworth, Melbourne and the Great Ocean Road in Victoria, a distance of 1,993 km. The delights of driving along miles of beach with no one in sight, the empty roads, the rolling hills and magnificent coastal scenery are some of the attractions of travelling in this country.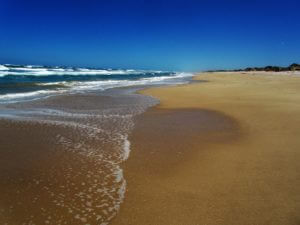 It was an experience in complete contrast to my trips in West Bengal where the rural roads are heaving with people in vehicles, on bikes, carts, tractors and on foot; the statistics show the differences – India with its population of 1.3 billion, a landmass of 3.3 million km2 and a population density of 382 people per km2 compared to Australia with a population of 24 million, a landmass of 7.7 million km2 and a population density of 3.1 people per km2.
It made me wonder how and why people came to Australia and why there are not more people here? Whilst exploring the city of Adelaide, I visited the Migration Museum and the Mortlock Wing of the State Library which gave some fascinating insight into how Australia was populated and are two highly recommended places to go.
Everyone knows the story of Captain Cook and of his arrival in Botany Bay, his claiming of the east coast of Australia for Britain and the naming of New South Wales in 1770. Previously British convicts were shipped to America but with the discovery of Australia and the American War of Independence making it impossible to ship convicts to America, all convicts were then transported to Australia. The First Fleet was a group of eleven vessels that carried 778 convicts from England to Australia departing in 1778. Between 1778 and 1867 it is estimated that 164,000 convicts were transported down under.
South Australia is particularly interesting for two reasons as it was established as a model colony with free settlers with no slaves or convicts and in the Letters Patent enabling the South Australia Act of 1836, the rights of Aboriginal natives and their descendants to lands they occupied or enjoyed was guaranteed. This was in contrast to the situation in NSW where the governor, Sir Richard Bourke, issued a proclamation in 1835 that introduced the concept that the land belonged to no-one prior to the British crown taking possession. However, the fate of the Aborigines in SA was no different to elsewhere in Australia. It is thought that there were 50 different groups of Aborigines with a population of 23,000 living in SA in the 1830's who had occupied the land for 30,000 years and after 10 years of colonization by Europeans this number had dwindled to less than 300.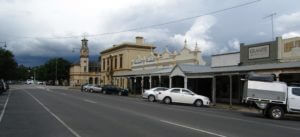 British people continued to colonize the new country and estimates are that over half a million arrived between 1851 – 1860 mainly due to the gold rush in NSW and Victoria. It was at this time that Australia started to become a multicultural society with immigrants arriving from other European countries such as the German states, Scandinavia, Italy and approximately 42,000 Chinese. Non-European immigrants were not welcome and in 1901 the Immigration Restriction Act was passed which meant that Australia would remain white and European; the White Australia Policy remained in place until 1973 when the federal government removed race as a factor in Australian immigration policies.
In the post-World War II era the Australian population was very small and the government feared attack from Asia but also had a chronic skill and labour shortage. As a result, in the 30 years after World War II 1.5 million British citizens came to Australia on the £10 assisted passage and it was one of the largest planned migrations of the twentieth century. It is not hard to imagine the families who wanted to leave post-war rationing and the grim prospects of unemployment and head to Australia which offered job opportunities and a happy life in the sunshine.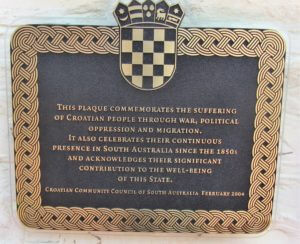 There were also over 182,000 displaced persons from World War II who came to Australia including, Russians, Poles, Hungarians, Greeks and Italians and many other nationalities.
Australia has also opened its doors for many humanitarian refugees. In 1975 the war in Vietnam came to an end with the fall of Saigon and to the mid-eighties Vietnamese made the bulk of humanitarian arrivals with smaller numbers from Laos and Cambodia. The special humanitarian programme in 1981 brought the first African refugees from Ethiopia followed by refugees from the Middle East, the former USSR and the Baltic states.
Australia is now a culturally diverse country but it was only in 1967 that Aborigines were recognized as Australian citizens. The Aboriginal Land Rights (Northern Territory) Act of 1976 was the first attempt of an Australian Government to recognize the Aboriginal system of land ownership and is a fundamental piece of social reform. This has been followed by other schemes to return land to Aboriginal tribes in all Australian states and now 16% of the land mass of Australia is under native title. It is interesting to see in the 33 years since I lived in Australia the change in attitude to the indigenous people. The ownership of the land is now acknowledged and there is an increased awareness of their culture and art. There are not many indigenous politicians in Australia's history but their numbers are increasing which offers hope for the future.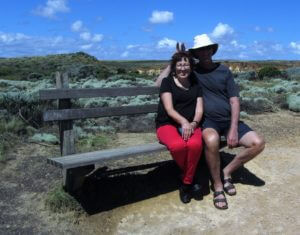 My friends Lynda and Henry are examples of Australian colonization.  Lynda's Mum was a "ten pound Pom", Henry's parents were Russian and Polish WW II refugees. One of their daughters has married a farmer of German descent and the other a Sudanese humanitarian refugee.
©Copyright overthehils.com 2017