Some friends have visited India on holiday and others have had extended stays studying yoga, working on parasitological or humanitarian projects. When describing their visits, the conversation inevitably mentions the dirt, poverty, garbage, lack of toilet facilities and other grim realities of life in India. Why are these issues unresolved in the twenty-first century and what is being done to improve the situation?
Since the formation of the first Indian government after independence and the first five-year plan produced in 1954, there have been a number of sanitation programmes but none has addressed the problems of the rural population. Seventy per cent of the Indian population lives in rural areas – about 900 million people and the census in 1981 revealed that rural sanitation only covered 1% of this population. A number of campaigns followed but unfortunately none were successful and slippage was the inevitable result. The pivotal moment was the passing of the 73rd Amendment to the Panchayat Act in 1992. The significance of this was that it empowered the local Gram Panchayats (local district councils) to act independently for the first time. They could raise taxes and spend money on roads and projects. This combined with the 1999 Total Sanitary Campaign and the 2012 Nirmal Bharat Aldinya began to result in some improvement in rural sanitation. However, the Indian government felt that progress was not being made fast enough and in October 2014 the Swacch Bharat Mission – Gramin (SBMG) was launched to unite all the efforts under one umbrella and make India Open Defaecation Free (ODF) by October 2019 to celebrate the 150th anniversary of Mahatma Gandhi's birth.
I have been lucky enough to have been offered a project working with the Department of Panchayats & Rural Development who are responsible for the administration of SBMG in West Bengal, to carry out an independent monitoring study on how one district, North 24 Parganas achieved ODF and how they intend to sustain and carry on the momentum to improve the quality of healthcare, hygiene, water supply and environment.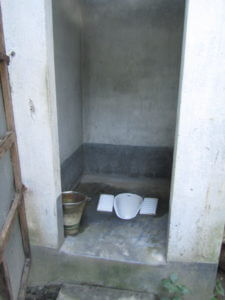 SBMG has concentrated on building toilets for rural households and educating people on why using a toilet and not defaecating in a field is a good idea. This may be hard for those of you reading this blog in Europe to understand, but in rural India, where there is a large population of poorly educated, tribal people living below the poverty line, their thought process is very different. Why would you have something so dirty as a toilet in or next to your house? Surely it is much better to shit in a field far away from the village and to wash yourself in the village pond? These are habits which have been the norm for thousands of years and these attitudes have had to be overcome with specially designed and highly imaginative educational programmes, using magicians, songs, dramas, the swearing of oaths and visits from local officials to collect contributions.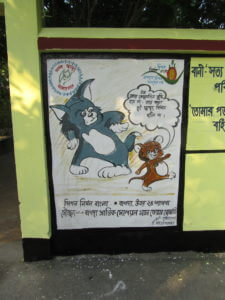 I have visited a small fishing village in a remote tribal area near the Bangladesh border with 125 households which did not have any toilets until 2015. Now every house has its own toilet or access to one and there are 92 toilets in the village. The people are very proud of their facilities and the children have formed a patrol which goes out at dawn and searches the countryside for anyone not using their toilet – there is a 50 INR fine if you are caught with your pants down in the field!
Building toilets is not an end in itself. As well as educating people to use a toilet, running in parallel is the basic hygiene message of handwashing after you have used a toilet and before eating a meal. Washing your hands before you eat is doubly important in India as the majority of people eat with their fingers. Therefore, the hope is to improve the health of the population by reducing the incidence of diarrhoeal disease and break the cycle of faecal – oral transmission of disease.
Schools have been supported in building separate toilets for girls and boys. This has had a huge impact on the attendance of girls at school as they now have proper toilet facilities where they can change sanitary napkins in private. It is estimated that girls used to miss at least 2-3 days of school every month and their education suffered as a result.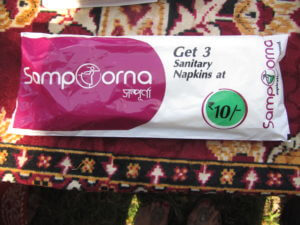 Schools are also installing sanitary pad vending machines or keeping a stock of pads in the school and running educational programmes on sanitary pad usage and the importance of hygiene during menstruation.  Recent studies have shown that poor genital area hygiene is an important factor in the development of dysplasia and cervical cancer. The use of homemade pads from cloth or other materials can increase the risk.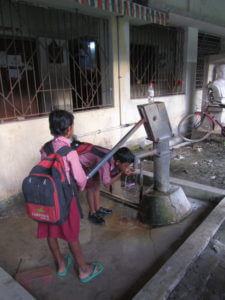 Alongside toilet construction adequate water supplies have had to be installed in the villages so that people have clean water to wash with and to manually flush the toilet. There is a programme to check water quality as many areas of West Bengal suffer from ground water arsenic contamination which is geological in origin. Huge schemes are in progress to pipe water from the Ganges into these areas.
As villages become ODF they move into the next phase which is to maintain, sustain and monitor the system. There are also plans to build community sanitary complexes in public places and there are Solid and Liquid Waste Management Schemes underway in some Gram Panchayats which are beginning garbage collections and recycling from households and markets. These are in their infancy and there is a long way to go. However, the will is there, it just needs a huge amount of effort to keep things moving in the right direction.
©Copyright overthehils.com 2017