The number of gods worshipped in Hinduism ranges from 33 to 330 million depending on what source you read! Suffice it to say that there are a lot of them and it follows that there are many religious festivals. In Bengal, Durga Puja, the biggest festival of all, takes place in the autumn and this year the bank holiday starts today, 27 September.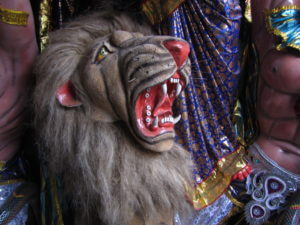 The goddess Durga (the name means unassailable or invincible) is usually depicted as a warrior goddess, riding a lion and wielding different weapons in her ten arms. Her consort was Shiva and she had 4 children, Lakshmi – the goddess of wealth and prosperity, Ganesha – the god of intellect and wisdom, Saraswati – the goddess of music, arts, knowledge and learning and finally Kartikeya, a warrior god.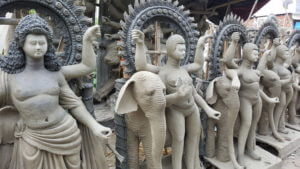 Months in advance of the festival, the idol makers start to prepare the images of the goddess, not just for the local market but the idols are shipped to Indian communities all over the world. Traditionally they are made from bio-degradable materials with a base of straw and a frame of bamboo. The image is built up with three layers of clay, each layer being dried in the sun before the next layer is applied. Then the idols are painted and dressed and the finished product is moved to its respective pandal ready for the festivities to begin.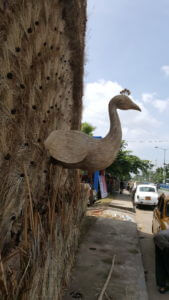 The pandals are temporary temples, some of them extremely lavish, which are built of bamboo frames and then decorated to  a theme.
There are 10 days of celebrations and the importance of the biodegradable properties of the images is that on the tenth day the goddess is carried in a procession to the nearest river, lake or ocean and immersed so that the clay dissolves and everyone says goodbye to the goddess for another year.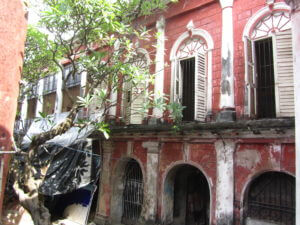 The history of the festival goes back hundreds of years but it was really popularised by the wealthy families in north Kolkata who started holding lavish celebrations from the 17th century onwards. Last weekend I went on a Heritage Walk in Kolkata and visited several of these old mansions, now sadly fallen into disrepair and saw where these pujas originated. The old houses are still opened up once a year for the celebrations. I also visited the famous Kumartuli area in Kolkata, which is where the original clay idol makers settled 300 years ago.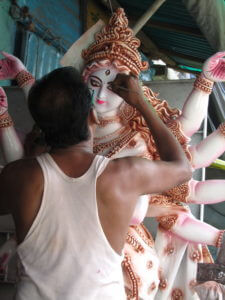 Their descendants carry on the tradition today and you can wander down Banamali Sarkar Street and watch the idols being created. However,  local artisans work all over the city and I found one family in Anandapur Road producing idols and everyday, as I went on my morning walk, I could see the progress being made!
Today I was invited to attend the ceremonies at  a pandal in Lake City with my hosts Amit and Mohua. We listened to the priests chanting the ritual mantras to appease the goddess and making offerings of food and flowers all to the accompaniment of drums and bells. It was all very colourful and loud; of course it ended up with everyone eating rice, dahl and vegetables – eating the traditional way with the fingers of the right hand. I managed not to disgrace myself but dahl is very hard to eat without cutlery and I need to remember to carry a plastic spoon in my bag…
©Copyright overthehils.com 2017